Wedding Dresses
Almost every little girl dreams of her perfect wedding, especially of her wedding dress. How she will walk down the aisle with everyone smiling at her, and how she will twirl in her wedding gown during the dance together with her prince. And then suddenly, it is time to make that dream a reality! Your girly ways have changed with time, and you now have to make a choice in selecting THE DRESS. So many textures, designs and colours to choose from, finding the wedding dress of your dreams could be the hardest or the easiest decision you have ever made.

You might be the bride who wants to break tradition and celebrate unabashedly your magnificent self. Or you might be an all-around wholesome and conservative bride who is considering looking more like Grace Kelly on her wedding day. Whatever your dreams and desires might be, when it comes to your wedding dress you will be a ravishing and exquisite bride.

When trying on dresses, do the research beforehand, figure out the styles that you like or might want to see on yourself. If you are having a hard time figuring it out, then try stepping outside of the box and put on a dress that you perhaps have not even considered, you might be pleasantly surprised. Do what feels right to you, after all this should be about you and your big and exciting day.

In case you are lost in a white sea of wedding dresses, here are some suggestions and our favourite designers for you to explore and hopefully give you some stress- free wedding gown solutions.
Danielle Frankel was established in 2017 in New York City. The first collection birthed an alternate aesthetic into the current bridal market.
CUSHNIE is a luxury women's ready-to-wear and accessories brand designed by Carly Cushnie.
Vera Wang began a sweeping makeover of the bridal industry in 1990 with the opening of her flagship salon at the Carlyle Hotel in New York City.
Sophisticated drama, feminine detailing and a modern approach to bridal design.
KAVIAR GAUCHE was established by the designers Alexandra Roehler and Johanna Kühl .The label's hallmarks are understated elegance, graceful design and contrasting elements.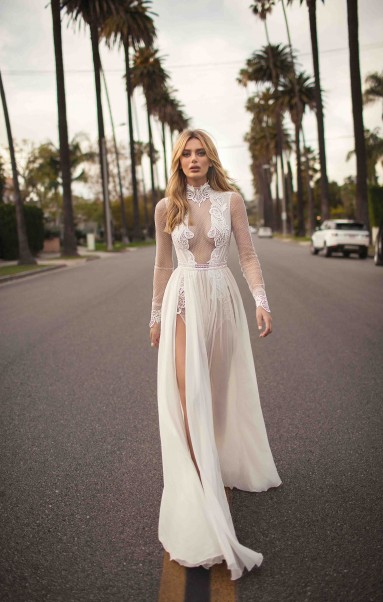 The sole designer of the fashion house is Berta Balilti. Berta founded her namesake brand in 2004.
A graduate of New York's Parsons Institute, Meredith Stoecklein's first foray into the fashion industry came via coveted internships with Zac Posen and Narciso Rodriguez.

Launched in 2007 in Beirut by the designer Mohammed Ashi, Ashi Studio established itself as a luxurious fashion house, rapidly gaining recognition as an illustrious label catering to a distinct clientele.
Anya Fleet, was born in Russia in 1980, graduated with honors the Shenkar College of Engineering and Design in 2006. In 2007 she opened a studio under her name in Tel Aviv with a couture ready to wear line.

Hermione de Paula embodies a world in which unparalleled handcraft, exquisite art and the creation of wonderful memories meet.
Maggie Sottero Designs is the culmination of a multigenerational legacy in fashion and bridalwear. Established in 1997.
Rebecca Ingram Classic and elegant wedding gowns at affordable price points, so brides don't need to compromise style or quality on a budget.

After graduating from "Shenkar", the leading fashion design school in Israel,
Lihi Hod went to Paris to work at Dior, alongside fashion designer John Galliano.